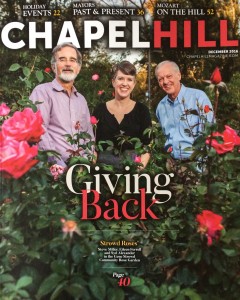 Chapel Hill News, November 27, 2016
Generation of givers
Nonprofit Showcase, Segment 2, WCHL 97.9 FM, October 20, 2016

North Carolina Network of Grantmakers, October 18, 2016
Strowd Roses Celebrates Fifteen Years of Service
Daily Tar Heel, October 17, 2016
Chapel Hill celebrates a place to stop and smell the roses
Storify, October 16, 2016
Strowd Roses 15th Anniversary Celebration by Kristen Smith
Nonprofit Showcase, Segment 1, WCHL 97.9 FM, October 1, 2016

Strowd Roses PSA – Plan to Give Locally, WCOM 103.5 FM, September 14, 2016

Strowd Roses PSA – Become Part of Our $5 Million Grantmaking History, WCHL 97.9 FM, August 30, 2016

Chapel Hill News, May 15, 2016
Living laboratory (funded in part by Strowd Roses, Inc.)
Chapel Hill News, April 27, 2016
Strowd Roses funded project: Carrboro High students put creative spin on local history
North Carolina Network of Grantmakers, April 12, 2016
Projected to Surpass $5 Million in Grants, Strowd Roses Celebrates its 15th Year
Chamber News, March 10, 2016
Strowd Roses Named as Finalist for Community Impact Award
E-newsletter, February 29, 2016
Starting Tonight at Al's Burger Shack Help Us Celebrate Our 15th Year of Service
Chapel Hill News, November 25, 2015
Strowd Roses, Inc. E.D. Shaves Head Encourages Others to Give on #GivingTuesday
North Carolina Network of Grantmakers, September 16, 2015
Strowd Roses, Inc.'s Rose Blooms and Grantmaking Peak
Hometown Hero Awards – Eileen Ferrell, WCHL 97.9 FM, September 3, 2015
Chapel Hill Magazine, August 29, 2015
Our Latest Obsessions: Roses, Tacos, and a Birthday Bash
Strowd Roses PSA – Give Local, WCHL 97.9 FM, July 30, 2015

The Herald Sun, July 18, 2015
Habitat Home living monument to citizens of the year
North Carolina Network of Grantmakers, April 30, 2015
Hemminger and Smith join Strowd Roses, Inc. Board and Foundation Begins 2015 with $117,350 in Grants
Chapel Hill News, April 14, 2015
Sand volleyball enjoying a rising tide
The News & Observer, February 3, 2015
Eileen Hannan Ferrell: Give locally, now more than ever
ChapelBoro.com
Eileen Ferrell Receives WCHL Hometown Hero Award 

(podcast)

Chapel Hill Magazine
A Bouquet of Roses
Chapel Hill News, December 23, 2014
Chapel Hill tour guides walkers through history
North Carolina Network of Grantmakers, October 15, 2014
Strowd Roses Names First Executive Director
Witherspoon Rose Culture, November 4, 2013
Witherspoon Rose Culture Presents: Virtual Tour of the Gene Strowd Community Garden
Chapel Hill News, June 6, 2012
E-reading Program Gets Grant
Chapel Hill Weekly, July 19, 2012
Coming Up Roses for more than a decade, charity has quietly improved Chapel Hill
Chapel Hill Magazine, October 21, 2011
Strowd Roses Celebrates a Decade of Goodwill
Chapel Hill News, October 16, 2011
A decade of goodwill, Strowd Roses supports groups
Sunday, October 9, 2011 . . .was proclaimed "Strowd Roses Day" by mayors of Chapel Hill and Carrboro as the foundation celebrated its 10th anniversary with a reception in the Gene Strowd Community Rose Garden that drew some 150 guests. Speakers from the Chapel Hill-Carrboro Public School Foundation and Farmer Foodshare described the ongoing impact of Strowd Roses grants on their work, while string quartets drawn from the Mallarmé Youth Chamber Orchestra – another grant recipient – provided music. For a full description of this event, go to: Strowd Roses celebrates 10 years of grant giving
In the Cary Citizen, September 26, 2011
A Short Drive from Cary: Chapel Hill Rose Garden
Strowd Roses Inc. and Triangle Community Foundation . . .funded a three-year study in the Chapel Hill-Carrboro City Schools with a $375,000 grant, a large portion of which went to participating schools to help pay for materials, training, and intervention strategies to address student needs and improve achievement. The discretionary funding enabled the schools to be innovative and creative in designing their intervention programs, said Bowen, an associate professor at the School of Social Work. Read more ….
[/vc_column_text][/vc_column][/vc_row]